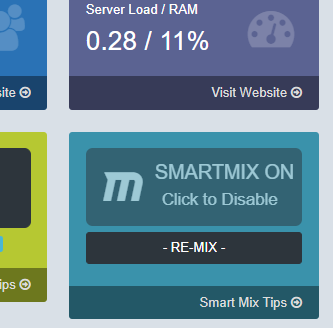 ---
SmartMix is meant to replace Centova's playlist system and can be used with or without other playlists such as station IDs.

How Does it Work? The track is stored in the DB and give a score depending on if the visitor likes or dis-likes the song.
Depending on the current score of the track, SmartMix will then scan your media files and pull related artists from your Centova media library. SmartMix will then compare and analyze each track based on total score, total amout of tracks in your media library, total amout of votes and several other factors.
SmartMix will also check against the last played tracks (up to 20) to prevent the same artist from replaying in the timeframe.
No Repeats of the same artist
Fully Automated, re-mixes playlist every 20-40 min
Include your ADs or Station ID's in the mix
Searches your media for related artists for popular tracks
Flood Control - Only the first vote is counted for each visitor
If automation is enabled, SMartMix will automatically re-gnerate a fresh playlist every 20-40 minutes. Your able to quickly re-mix or terminate SmartMix from your SHOUTcast Widgets panel.